Boos Block R02 Maple Cutting Board, 24" x 18" x 1.5"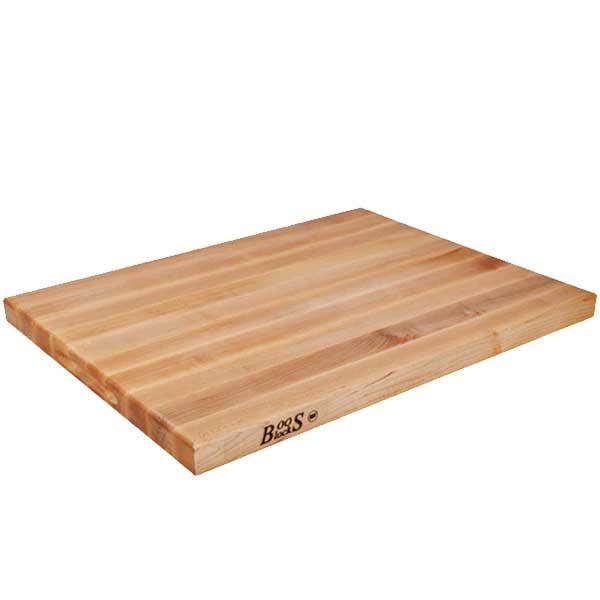 Boos Block R02 Maple Cutting Board, 24" x 18" x 1.5"
Product Details
Original Price:
Current Price:
$154.95
Ships Internationally
Additional Information
The Boos Block R02 Maple Cutting Board measures 24" x 18" x 1.5" is manufactured from hard maple and is fully reversible. It comes ready to work with a Boos Block Cream Finish, and is Made in the USA.
When used with the Boos Block Mystery Oil and Board Cream, an independent study confirms Boos' Northern Hard Rock Maple cutting boards kill bacteria*. Using these two products on the board creates an antimicrobial, hydrophobic surface that decreases surface bacteria to a 'clean level' in just three hours. The mystery oil and board cream create a hydrophobic surface by allowing the bacterial fluids to bead up off the surface of the wood and reduce the interaction time the meat fluids can have with the board, thus reducing the adhesion of the bacteria in the fluid to the board. Furthermore, any remaining fluid left behind is then absorbed into the wood fibers via the mystery oil, where the natural occurring enzymes in the Northern Hard Rock Maple kill any remaining bacteria.
Features
Hard Maple Edge Grain Construction
1-1/2" Thick - Reversible
Hand Grips
Boos Block Cream Finish w/ Beeswax
Made In The USA
Recommended maintenance: John Boos & Co. recommend proper board cleaning procedures at regular intervals to maintain the board's surface. This includes wiping the board down with a paper towel after each use, rinsing the board with warm soapy water, and then immediately towel drying the board. Following this process, apply a layer of mystery oil followed by a layer of board cream. Never wash board in dishwasher or immerse it in a sink full of water.
*Read the full report validating antimicrobial properties here
Customer Reviews & Questions
Need Help?
Our experts are here to guide you through your purchase.