ATBBQ Traditional Spatchcock Thanksgiving Turkey Kit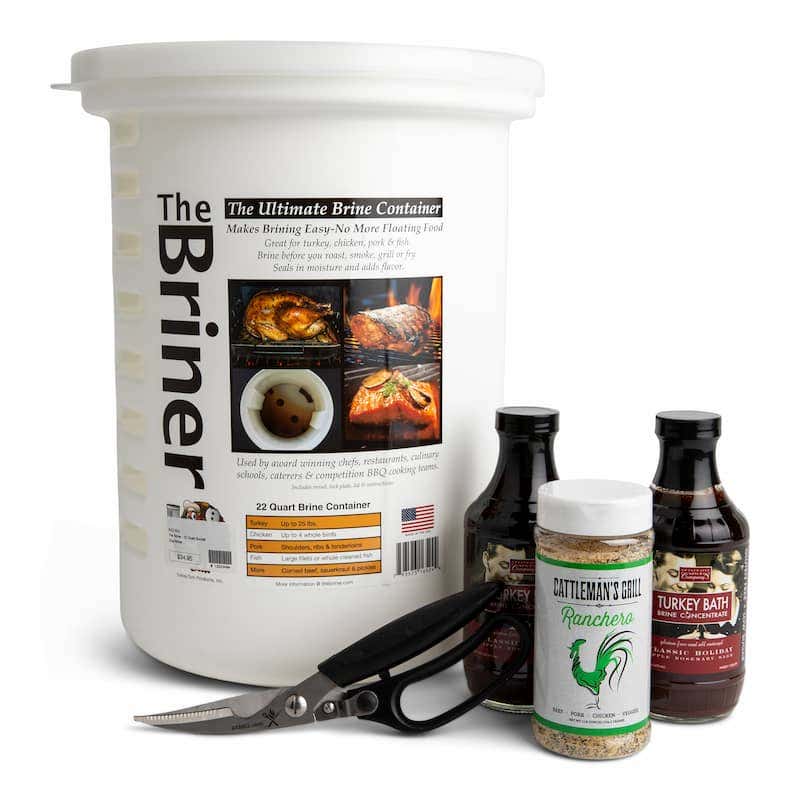 ATBBQ Traditional Spatchcock Thanksgiving Turkey Kit
Product Details
Original Price:
Current Price:
$34.49
Additional Information
Prepare a traditional, juicy, and crowd-pleasing turkey this year with our expertly crafted kit. As Chef Tom set out to create new flavor profiles for this year's turkey kits, he developed a process for making a failproof, richly flavored turkey feast. Best paired with the "spatchcock" method (removing the backbone and pressing the turkey flat), this kit contains a traditional brine featuring apple, rosemary, and sage plus a bright and savory seasoning.
In addition to the flavors, this kit includes a 22qt briner bucket to make the brining process a breeze and our ATBBQ poultry shears to make prep simple.
Follow the recipe: Traditional Spatchcocked Thanksgiving Turkey
All Things Barbecue Traditional Spatchcock Turkey Options:
Flavors Only includes:
2 x Sweetwater Spice Classic Holiday Turkey Bath, 16oz
1 x Cattleman's Grill Ranchero Seasoning, 11.8oz
Briner Kit Includes:
All of the above plus 
The Briner 22qt Brining Bucket, 12.5" Diam. x 16" H
1 x ATBBQ Poultry Shears

Customer Reviews & Questions
Need Help?
Our experts are here to guide you through your purchase.