Kamado Joe Classic III 18" Ceramic Grill with No Cart
PURCHASED WITH THIS PRODUCT
---
---
Info Quick Links
---
Completely redesigned and reimagined, the Kamado Joe Classic III has fresh new features that improve on an already excellent ceramic kamado grill. The most notable change is the patented "SlōRoller" hyperbolic smoke chamber which delivers even heat and immersive smoke into the grill environment. Paired with the 3-Tier Divide and Conquer system, the Classic III is versatile, efficient, and the perfect centerpiece for any outdoor cooking setup.
Setup direct or indirect heat for versatile cooking options with the Divide and Conquer cooking system
Grill, smoke, bake, and roast with minimal changes to the grill setup saving you time
Grill steakhouse quality steaks, smoke delectable brisket, and bake wood-fired pizza all with one grill
Air Lift Hinge makes the lid easier to lift and can be opened partway without slamming shut
Kontrol Tower Top Vent: Rust-proof aluminum keeps precipitation out and keeps airflow efficient
Wire mesh gasket is more durable and efficient
Self-Activating Stainless Steel Latch creates a better seal between dome and grill body
Charcoal Grate replaced with Charcoal Basket includes removable partition for indirect cooking and increased airflow
Advanced Multi-Panel Firebox means more resistance to cracking as interlocking pieces allow for natural expansion and contraction
SlōRoller Hyperbolic Smoke Chamber distributes smoke and heat in rolling, recirculating waves meaning enhanced flavor and reduced hot spots
220 lbs
With the Kamado Joe Classic III, achieve classic charcoal flavor every time you grill, smoke, roast or bake. The Classic III has a cooking range of 225ºF to over 750ºF. This 18" diameter grill has everything you need to start grilling now. In the box, you will find the grill, hyperbolic smoke chamber, 3-tier divide & conquer cooking system, stainless steel charcoal basket, grill gripper, and ash tool. Other ceramic grill brands charge per item while Kamado Joe includes every necessary item in the box.
The Classic III without cart comes partially assembled in the box and is backed by Kamado Joe's amazing limited lifetime warranty. Built for years of cooking enjoyment, the Kamado Joe outperforms their egg-shaped competition while still costing less.
The SlōRoller Hyperbolic Smoke Chamber is what sets the Kamado Joe Classic III apart from the rest of the ceramic grill field. This insert is based on patented Harvard science and features an hourglass (hyperboloid) shape that manipulates and accelerates airflow so that heat and smoke spiral around the food on the grill. The nature of this design creates a true cyclonic airflow and the result is more flavor, up to 20 times more smoke circulation, reduced hot spots, increased wood-fired flavor, cleaner burn of fuel.
The Kamado Joe Classic III is a grill, a smoker and an oven all in one. With minor adjustments to the deflector and grates, you can completely reconfigure your grill to suit your needs. To achieve this versatility, the Classic III needs only a simple adjustment to the airflow and the use of its heat deflector plates. No other ceramic grill offers this much versatility. The bottom line is that you can cook anything, easily, on your Classic III.
Combining natural lump charcoal and simple airflow control allows you to adjust and maintain any temperature for a long period of time. Set the temperature to 225ºF for classic low and slow barbecue and you can rest assured that the Classic III will maintain its temperature for up to 12 hours.
The Kamado Joe Classic III is ready to cook in just 15 minutes. Simply pour in the desired amount of charcoal, drop in a Kamado Joe charcoal lighter, and you'll be ready to cook in the same amount of time that it takes you to preheat a gas grill.
---
What you get with Kamado Joe:
The Kamado Joe Classic III without cart is the best deal in built-in ceramic grills today. In the box you will find:
Partially assembled Classic III with a built-in thermometer
Ceramic "feet" to securely rest cooker on a variety of surfaces
SlōRoller Hyperbolic Smoke Chamber
The Divide and Conquer Cooking System which includes a multi-position stainless steel rack
Two half-moon 304 stainless steel cooking grates
Two ceramic half-moon heat deflectors
304-stainless steel charcoal basket
Airlift Hinge
Kontrol Tower top vent
304-stainless steel latch
Wire mesh fiberglass gasket
Patented slide-out ash drawer
Grill gripper and ash cleaning tool
This is the most complete ceramic cooker on the market today. You don't need anything extra to start grilling, smoking, baking or roasting.
Model Number: KJ15040721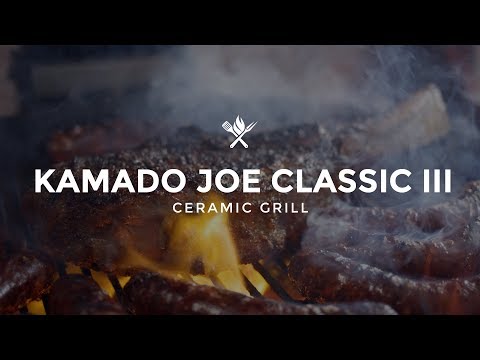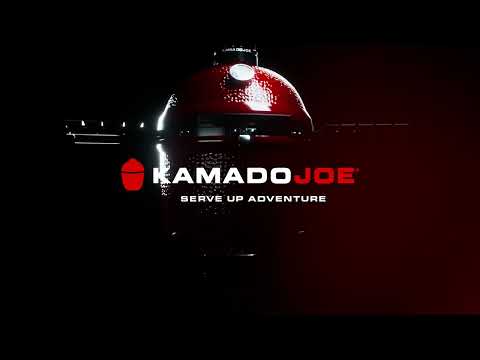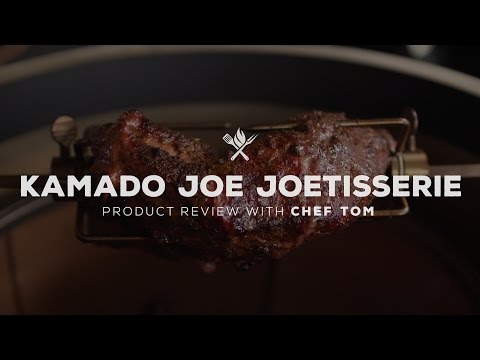 Grill Dimensions
Width: 26″
Height: 34″
Depth: 30″
Heat Range
225° F – 750° F
500°F Max. when using SlōRoller
Cooking Surface
18" diameter 256 sq. in.
w/3 Tier Divide & Conquer® : 510 sq. in.
More Information

| | |
| --- | --- |
| SKU | 12032693 |
| Color | Red |
Models: Classic Joe, Big Joe, Classic Joe Stand-Alone, Big Joe Stand-Alone, and Joe Jr.
Limited Lifetime Warranty on Ceramic Parts
Kamado Joe® warrants that all ceramic parts used in this Kamado Joe® grill and smoker are free of defects in material and workmanship for as long as the original purchaser owns the grill.
5-Year Warranty on Metal Parts
Kamado Joe® warrants that all metal and cast iron parts used in this Kamado Joe® grill and smoker are free of defects in material and workmanship for a period of five (5) years.
3-Year Warranty on Heat Deflector and Pizza Stone
Kamado Joe® warrants that the heat deflector frame and ceramic plate(s) and the pizza stone used for the Kamado Joe® grill and smoker are free of defects in material and workmanship for a period of three (3) years.
1-Year Warranty on Thermometer and Gaskets
Kamado Joe® warrants that the thermometer and gaskets used in this Kamado Joe® grill and smoker are free of defects in material and workmanship for a period of one (1) year.
When Does the Warranty Coverage Begin?
Warranty coverage commences on the original date of purchase and covers only the original purchaser. For the warranty to apply, you must register your grill. If a defect in material or workmanship is discovered during the applicable warranty period under normal use and maintenance, Kamado Joe® will, at our sole option, replace or repair the defective component at no cost to you for the component itself. This warranty does not apply to labor, or any other cost associated with the service, repair or operation of the grill. Kamado Joe® will pay all shipping charges on warranty parts.
What is Not Covered?
This warranty does not apply to damage caused by abuse or use of the product for purposes other than that for which it is designed, damage caused by lack of proper use, assembly, maintenance or installation, damages caused by accidents or natural disasters, damage caused by unauthorized attachments or modifications, or damage during transport. This warranty does not cover damage from normal wear and tear from use of the product (for example, scratches, dents, dings and chipping) or changes in the appearance of the grill that does not affect its performance.
THIS LIMITED WARRANTY IS EXCLUSIVE AND IN LIEU OF ANY OTHER WARRANTY, WRITTEN OR ORAL, EXPRESS OR IMPLIED, INCLUDING BUT NOT LIMITED TO THE WARRANTY OF MERCHANTABILITY OR FITNESS FOR A PARTICULAR PURPOSE. THE DURATION OF ANY IMPLIED WARRANTIES, INCLUDING ANY IMPLIED WARRANTY OF MERCHANTABILITY OR FITNESS FOR A PARTICULAR PURPOSE IS EXPRESSLY LIMITED TO THE DURATION OF THE WARRANTY PERIOD FOR THE APPLICABLE COMPONENT. *Some states do not allow limitations on how long an implied warranty lasts, so the above limitation may not apply to you.
THE PURCHASER'S EXCLUSIVE REMEDY FOR BREACH OF THIS LIMITED WARRANTY OR OF ANY IMPLIED WARRANTY SHALL BE LIMITED AS SPECIFIED HEREIN TO REPLACEMENT. IN NO CASE SHALL KAMADO JOE® BE LIABLE FOR ANY SPECIAL, INCIDENTAL OR CONSEQUENTIAL DAMAGES. *Some states do not allow the exclusion or limitation of special, incidental or consequential damages, so the above limitation or exclusion may not apply to you.
What Will Void the Warranty?
Purchasing any Kamado Joe® product through an unauthorized dealer voids the warranty. An unauthorized dealer is defined as, but not limited to discount clubs, big box stores or any retailer who has not been expressly granted permission by Kamado Joe® to sell Kamado Joe® products.