Twin Eagles 42" Warming Drawer with Storage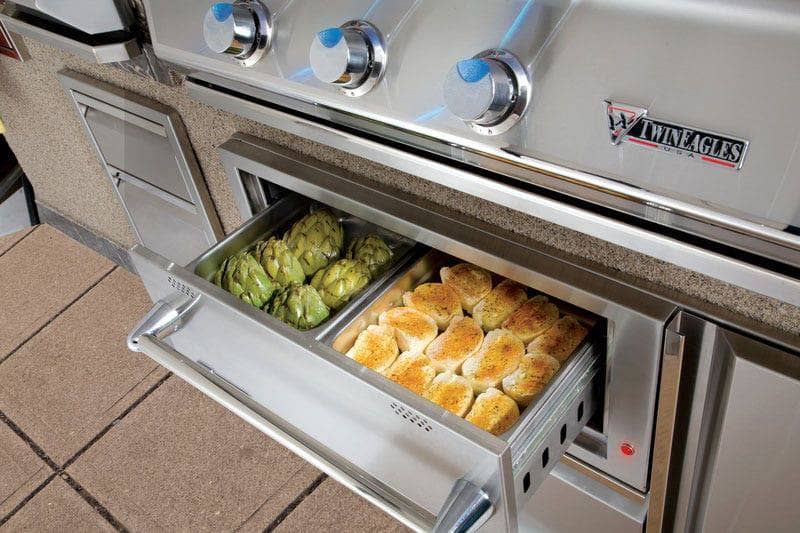 Twin Eagles 42" Warming Drawer with Storage
Product Details
Original Price:
Current Price:
$2,989.00
Made in the USA
Additional Information
Built for superior warming performance, the Twin Eagles 42" Warming Drawer with Storage is perfect for adding to your outdoor kitchen to create additional storage and warming abilities. This warming drawer is constructed from high grade stainless steel for added strength and durability. It also features a thermostatic temperature control which allows for you to easily regulate the heat within the warming drawer to suit your specific needs.
Offering an indicator light for easy viewing of your food, this warming drawer can easily be used of a day or night. It comes with 2 half sized pans with lid for steaming and features steam racks for added convenience when warming.
With its humidity control vents, this Twin Eagles warmer drawer won't allow high amounts of humidity to accumulate within the draw, keeping your food nice and warm before eating. It also offers an easy temperature control between 60°F to 220°F which allows for you to easily set the temperature to your preferred preference when warming your food.
Offering a heavy duty 100lb capacity, this warming drawer comes with removable slides. It can also store multiple items with its extra-large capacity storage drawer which is constructed from high strength stainless steel for added durability. Delivering a soft closing double wall door with flush handle design, this warming drawer with storage is capable of promoting a professional look and finish that is complementary to your outdoor kitchen.
Complete with a trash or LP tank drawer, this Twin Eagles warmer drawer unit is able to offer a versatile and complementary design which is suitable for both indoor and outdoor use for added convenience. With its sleek and modern day appearance, this Twin Eagles warmer not only keeps your food warm, but also provides a professional look that all your guests will notice.
Twin Eagles 42" Warming Drawer with Storage Features:
Stainless steel construction
Thermostatic temperature control
Indicator light
Two half-sized steamer pans with lid
Steam racks
Humidity control vents
Controls temperature from 60°F to 220°F (15°C to 104°C)
Heavy duty, 100 lb. capacity, full extension and removable slides
Extra large capacity stainless steel storage drawer
Double wall soft closing door with flush handle design and hi-polished accents
Trash/tank drawer (tank can/LP tank not included)
120 volt electric cord
Approved for indoor/outdoor use
49.0" Wide, 33.0" Tall, 33.0" Deep
195.0 Pounds
Model Number: TEWD42C-C
TWIN EAGLES
Created from many years of experience, the Twin Eagles range was first introduced to the world in 2005 by award-winning Dante Cantel, a professional gas engineer. Dante reinvented what it means to own a true outdoor kitchen with his range of refined and perfected products which promote exceptional design, powerful performance and strong construction. Now a household name amongst gas grills, other products are no match for a Twin Eagles grill because of their incredible grilling performance.
Customer Reviews & Questions
Need Help?
Our experts are here to guide you through your purchase.