Twin Eagles 30" Outdoor Bar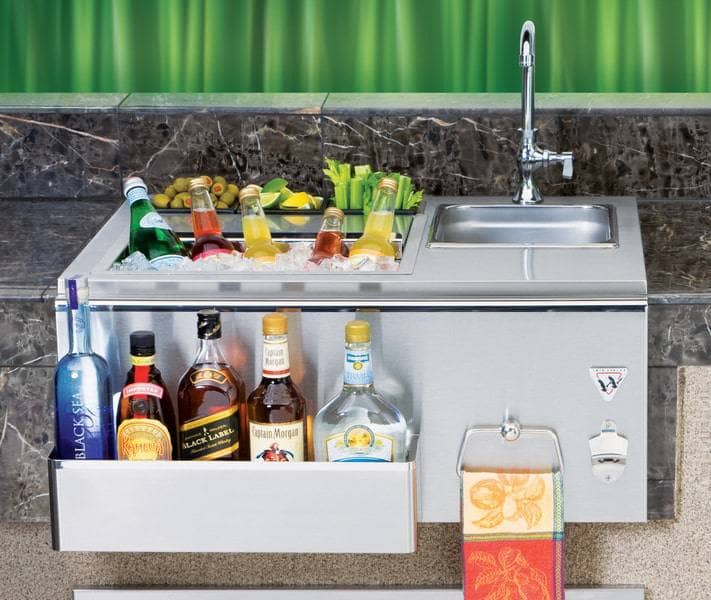 Twin Eagles 30" Outdoor Bar
Product Details
Original Price:
Current Price:
$1,939.00
Made in the USA
Additional Information
Nothing says a backyard party more than the Twin Eagles 30" Outdoor Bar! This outdoor bar is designed to provide everything you need to easily create the perfect bar atmosphere when entertaining guests. Featuring a high strength stainless steel welded construction, this outdoor bar offers superior strength and durability which is perfect for withstanding the wear and tear of long and demanding party atmospheres.
This Twin Eagles outdoor bar comes with an insulated beverage cooler which can easily keep all your essential drinks and beverages cold at all times. It also features 3 bottle wells with a speed rail which help to keep your bottles in place without the risk of them falling out. Offering an insulated ice compartment, this outdoor kitchen bar can hold up to 40lbs of ice at a time to make sure all your beverages and perishables are cool throughout a hot summer's day for added convenience.
With its stainless steel towel ring and stainless steel bottle opener, it provides all the essentials of creating the perfect, fully functioning outdoor bar that is great for any application. It consists of a chrome faucet and bar sink that works when needed to add convenience when wanting to wash something. Ideal for integrating into your outdoor kitchen area, this Twin Eagles 30" outdoor bar is perfect for getting the party started and can deliver refreshments time and time again.
Features
Stainless steel welded construction
Insulated beverage cooler
Stainless steel sliding cover
Three bottle wells and a speed rail
Stainless steel bottle opener and towel ring
Stainless steel bar sink and chrome faucet
Optional drain kit is available
Model Number: TEOB30-B
TWIN EAGLES
Created from many years of experience, the Twin Eagles range was first introduced to the world in 2005 by award-winning Dante Cantel, a professional gas engineer. Dante reinvented what it means to own a true outdoor kitchen with his range of refined and perfected products which promote exceptional design, powerful performance and strong construction. Now a household name amongst gas grills, other products are no match for a Twin Eagles grill because of their incredible grilling performance.
Customer Reviews & Questions
Need Help?
Our experts are here to guide you through your purchase.