Jensen Outdoor Opal Dining Arm Chair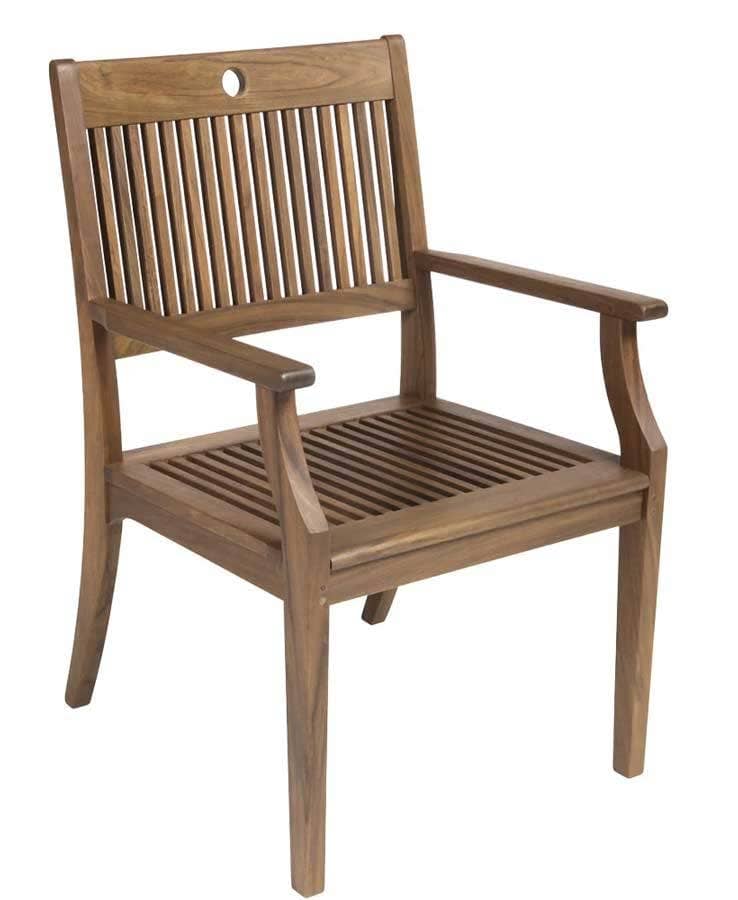 Jensen Outdoor Opal Dining Arm Chair
Product Details
Original Price:
Current Price:
$724.00
Additional Information
More than a place to sit, the Opal Arm Chair is a standout in any setting. It features the elegance to stand on its own yet is also divine for lounging or dining at any dining table from Jensen Outdoor. Its comfortably slanted backrest and supportive seat are crafted from fine, individual slats of Ipe timber in a linear design. Its backrest bares the signature open "O" accent of the Opal Collection, which is inspired by the dazzling stone of the same name.
Making a transitional design statement that sits well in any décor, the Opal Collection sparkles with fine craftsmanship and 100% FSC-Certified Ipe timber sustainably sourced from dry, tropical forests in Bolivia. Ipe timber offers phenomenal durability and resistance to the natural elements, from weather and moisture to sun. When welcomed, Ipe timber has a dark, chocolate brown hue that can be preserved with ease or allowed to gracefully age into a rich silver patina for aesthetic versatility.
Features
Frame is crafted from 100% FSC-Certified, solid Ipe timber sustainably sourced from dry, tropical forests in Bolivia.
Ipe timber is made for outdoor settings with its natural strength, durability and resistance to both weather and wear.
A unique, fine-grain sanding technique provides a smooth-as-glass hand finish to the Ipe timber craftsmanship.
The deep, chocolate brown color of Ipe timber can be easily maintained for a lifetime or allowed to gracefully develop into a subtle silvery patina that offers deeper dimension.
Linear slats of Ipe timber add structural support and decorative allure to the angled backrest and sturdy seat of the chair.
Thoughtfully constructed with metal joinery for enhanced strength.
Upper back of the chair bares the signature, open "O" detail of the Opal Collection, which is designed to resemble the precious stone that shares it name.
Dimensions
Height: 35"
Width: 23"
Depth: 25"
Arm Height: 25"
Seat Height: 17"
Care
Protecting New and Newly Cleaned Ipe Furniture:
In a ventilated area, apply Wood Shield to all clean Ipe surfaces to further protect against water and food stains, then enjoy your new set outside.
As Needed Cleaning Instructions:
Wash your Ipe wood surfaces with a soft towel and mild dish soap, then rinse clean with water. Once complete, allow to dry.
Restore The Deep Chocolate-Brown 'As New' Finish:
Ipe naturally develops an elegant silver patina over time when exposed to the elements. To restore the 'as new' chocolate brown finish of Ipe wood, follow our simple color-restoration process:
To prepare Ipe for a UV-protective coat of Penofin® Verde Oil Finish, use Penofin® Pro-Tech Wood Cleaner to remove surface dirt, then rinse off with water.
To brighten and re-establish the pH balance of Ipe wood to best accept the Penofin® Verde Oil Finish, use Penofin® Pro-Tech Wood Brightener, then rinse off with water and allow to dry completely.
Apply Penofin® Verde Oil Finish as directed on the can, letting it penetrate for 30 minutes.
To remove excess oil finish that hasn't been absorbed by the wood, rub the Ipe surface with smooth rags until dry to the touch. IMPORTANT: Dispose of rags in a metal bucket of water to avoid spontaneous combustion.
After completely dry, apply Wood Shield to timber to provide additional protection against water and food stains.
Customer Reviews & Questions
Need Help?
Our experts are here to guide you through your purchase.