ATBBQ Smoked and Fried Turkey Kit #2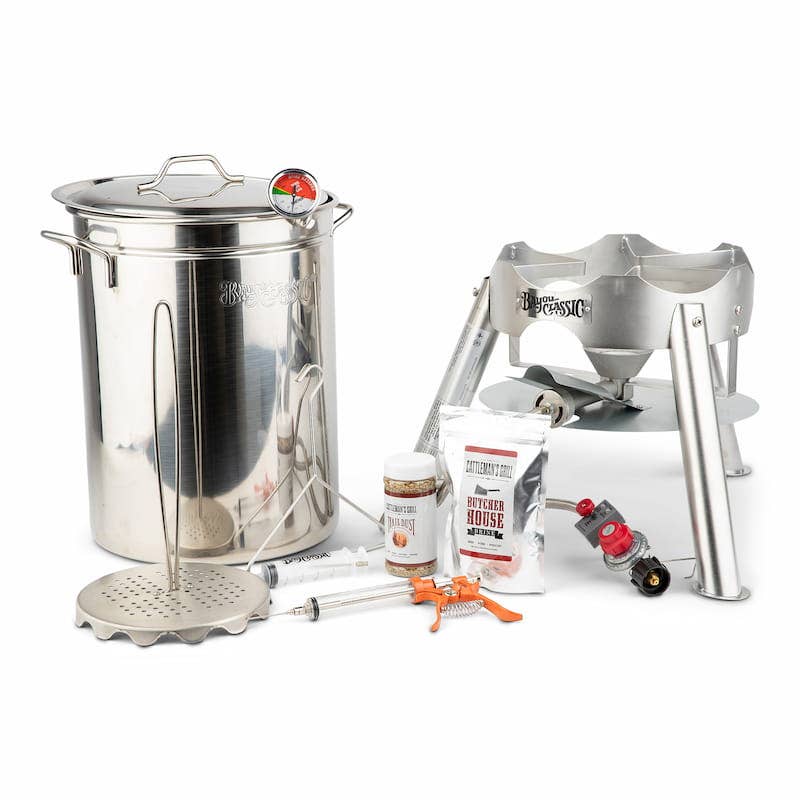 ATBBQ Smoked and Fried Turkey Kit #2
Product Details
Original Price:
Current Price:
$354.95
Additional Information
What's better than crispy fried turkey? Answer: crispy fried turkey with added rich, smokey flavor. Fried turkey is an indulgent addition to any fall feast but can lack depth of flavor. By smoking your turkey first and then frying, you'll have flavor embedded in the meat AND a flavor punch in the crispy outer layer.
This kit has the flavors Chef Tom handpicked for our smoked and fried turkey recipe, the ATBBQ pistol-grip meat injector used in the recipe, plus the Bayou Classic 44qt stainless steel turkey fryer kit. This particular frying kit features a larger stainless-steel stockpot for bigger turkeys (up to 25lbs), a stainless frame, and a perforated poultry rack for easy frying process. To see the entire breakdown of what's in the 44qt stainless turkey fryer kit from Bayou Classic, click here. Follow along with Chef Tom's recipe.
Includes:
1 x Cattleman's Grill Butcher House All-Purpose Brine, 16oz
1 x Cattleman's Grill Trail Dust All-Purpose Seasoning, 10.9oz
1 x ATBBQ Meat Injector with Pistol Grip
1 x Bayou Classic 44-quart Stainless Steel Turkey Fryer Kit
Customer Reviews & Questions
Need Help?
Our experts are here to guide you through your purchase.