Yoder Smokers Built-In YS640s Pellet Grill Island with Double Access Doors
As low as
$4,289.99
free shipping
---
Estimated Shipping:
Lead time varies, please reach out to our staff for a specific ETA.
---
PURCHASED WITH THIS PRODUCT
---
---
Adding a Yoder Smokers YS640s Pellet Grill to your outdoor kitchen couldn't be easier with our ready to finish frame kit.
This kit includes a 52" steel frame, Yoder Smokers built-in grill and under-grill storage cabinet. The sturdy steel frame is cut to fit your choice of the Yoder Smokers YS640s with Left or Right Side Hopper. Stainless steel double access doors (included) give you under-grill access to utilities and space for storage.
The hopper side of the frame should not be placed against a wall or joining cabinet without extra clearance added. It is important that there is adequate space for airflow for the YS640s pellet grill. Please reach out to our support team at 316-440-3950 or info@atbbq.com with additional techinical or design questions.
The complete Yoder Smokers Island Outdoor Kitchen Package is ready for you to customize; finish the exterior to match your patio and outdoor living space.
Unsure where to start? Speak to one of our Outdoor Kitchen Specialists at 316-440-3950 for a free design consultation.
Quivira 42" x 19" Double Access Doors provide excellent use of space for access to utilities or simple storage for commonly used items.
Installed beneath the grill head, you'll have room for accessory storage and easy access to your grill's grease trap.
Our ATBBQ Steel Outdoor Kitchen Frame is custom made to support your Yoder Smokers YS640s Pellet Grill. This frame is ready to finish out with a variety of materials to match your outdoor space.
Add a a suitable outdoor top such as granite to finish.
Frame dimensions: 52" wide x 26.5" deep x 22.75" high.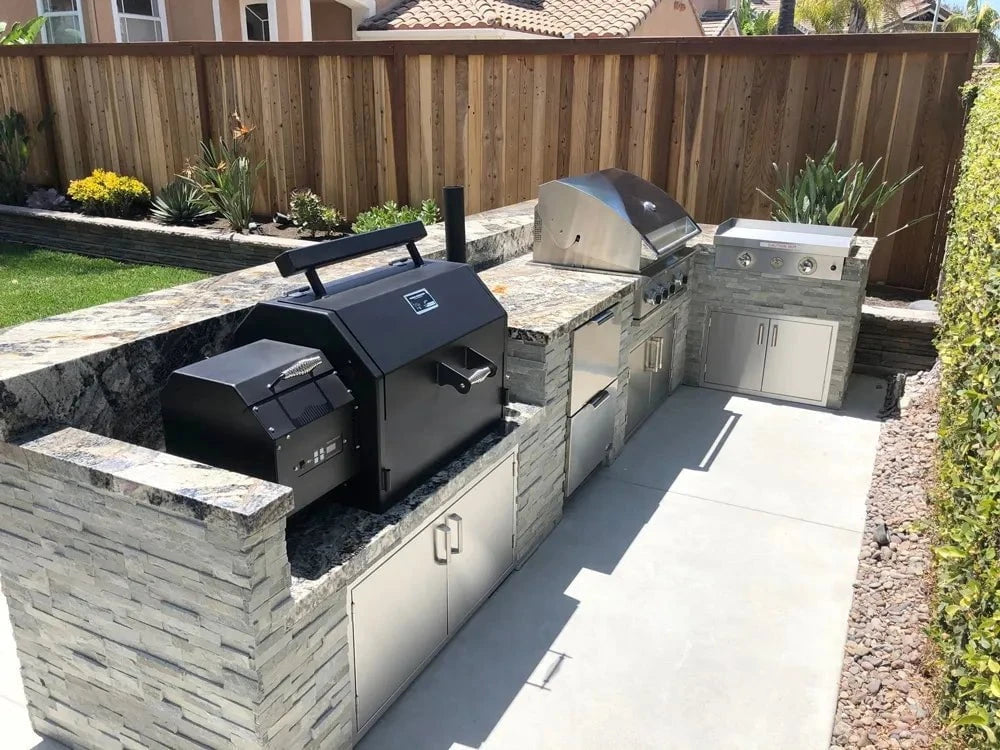 FINISHED KITCHEN WITH ATBBQ STEEL FRAMES
More Information

| | |
| --- | --- |
| SKU | P109 YS640s Island |
| Color | Black, Stainless Steel |