Tagwood BBQ Drop In Santa Maria Argentine Grill Stainless Steel, BBQ05SS
---
Estimated Shipping:
2-4 business days
---
---
Info Quick Links
---
Bring classic South American flavor and cooking to your outdoor kitchen with the Tagwood BBQ05SS Built-in Santa Maria Wood Fire and Charcoal Grill.
WHAT IS A SANTA MARIA GRILL?
A Santa Maria, sometimes called Argentinian, grill is an open firewood and charcoal grill that has a base that holds smoldering coals from your wood fire to cook the meat above. The meat rests on an adjustable surface that can be raised and lowered depending on the style of cooking you are doing.
HOW DO YOU COOK ON THIS GRILL?
To start you will load the brasero style firebox on the left side of the grill with wood and start the wood with either paper or a good charcoal starter.
PRO TIP: leave some space between the splits crisscrossing them so air can travel up ensuring you have a fire quickly and without any hassle
Once the logs have started to thoroughly burn you will tap them with the included poker, sending the hot embers down below. Using your shovel you will then begin to place them underneath your desired cooking area, spreading them out for consistent and even heat.
To adjust the heat you simply raise and lower the grill grates. Moving the grates close to the fire will give you a good sear and crust while raising the grates will allow larger cuts to cook slowly and break down.
The Tagwood BBQ05SS also includes a set of eight S-shaped meat hooks that allow you to hang larges cuts of beef, lamb, pork, and more from the top bar. This will cook these large cuts slowly and is a traditional way to cook lamb in Argentina and other South American countries.
FEATURES
The total grilling area of the BBQ05SS is 561 square inches, with a 34" x 16.5" cooking surface.
The cooking chamber is lined with firebricks for maximum heat retention and transmission. The chamber also includes a water drainage system that will keep water and other liquids from accumulating in the grill.
The stainless steel trim allows the Tagwood BBQ05SS to blend into any outdoor kitchen, from rustic to modern and everything in-between.
Masterfully designed and manufactured from 304 Stainless Steel this grill includes a five-year limited warranty so you can rest assured that it will last you for years to come.
WHAT'S IN THE BOX?
Interchangeable griddle
Stainless steel rod grates
Eight S shape meat hooks
Shovel & poker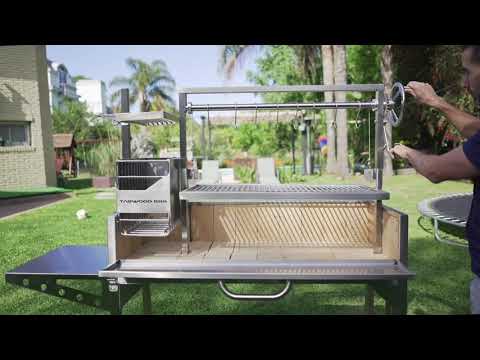 SPECIFICATIONS & FEATURES
561 sq. in. of total grilling area
34'' x 16.5'' main grilling area
ALL made of 304 Stainless Steel
Height adjustable grates to regulate grilling temperature
Round grates for optimal grilling and easy cleanup
Firebox gaucho style brasero lights up charcoal or firewood quicker
Firebrick bottom and sidewalls, minimize heat transmission to the outside wall and extends product durability
Water drainage system avoids bottom water accumulation
More Information

| | |
| --- | --- |
| SKU | 12038188 |
| Color | Stainless Steel |