Kamado Joe Classic II Ceramic Grill with Cart
The best deal in ceramic cookers today.
Every grill comes with:
The Divide and Conquer Cooking System
Two half-moon 304 stainless steel cooking grates
Two ceramic half-moon heat deflectors
Patented slide-out ash drawer
Grill gripper and ash cleaning tool
---
---
PURCHASED WITH THIS PRODUCT
---
---
Info Quick Links
---
The Kamado Joe Classic II is the ultimate ceramic grill. Achieve classic charcoal flavor every time you grill, smoke, roast or bake. The Classic II has a cooking range of 225ºF to over 750ºF. This 18" diameter grill has everything you need to start grilling now. In the box you will find the grill, cart, HDPE side shelves, ash tool and grill gripper for lifting hot cooking grates. The Classic II comes fully assembled in the box and is backed by Kamado Joe's amazing limited lifetime warranty. Built for years of cooking enjoyment the Kamado Joe outperforms their egg shaped competition while still costing less.
Setup direct or indirect heat for versatile cooking options with the Divide and Conquer cooking system
Grill, smoke, bake and roast with minimal changes to the grill setup saving you time
Grill steakhouse quality steaks, smoke delectable brisket and baked wood fired pizza all with one grill
Air Lift Hinge makes lid easier to lift and can be opened partway without slamming shut
Kontrol Tower Top Vent: Rust-proof aluminum keeps precipitation out and keeps air flow efficient
Wire mesh gasket is more durable and efficient
Self-Activating Stainless Steel Latch creates a better seal between dome and grill body
Advanced Multi-Panel Firebox means more resistance to cracking as interlocking pieces allow for natural expansion and contraction
If you require superior taste then the Classic II is for you. The ceramic shell is an insulator which means that it will keep natural oils and moisture in your food. No more dried out meat, instead you will have food that is juicy and tender. The Classic II gives you true charcoal flavor by using 100% natural lump charcoal (no briquettes and their nasty binding chemicals). Hardwood charcoal gives food a taste that gas, electric or briquette charcoal cannot deliver.
With the Classic II you can grill restaurant quality seared steaks in 5 minutes and with a few adjustments you can start smoking a beef brisket to tender perfection. With another quick adjustment to your Divide and Conquer cooking system you can start baking wood fired pizza that will rival any restaurant in town. This means that the Classic II is a grill, a smoker and an oven all in one. This gives you the versatility to cook what you want, when you want.
To achieve this versatility the Classic II needs only a simple adjustment to the airflow and the use of its heat deflector plates. No other ceramic grill offers this much versatility. The bottom line is that you can cook anything, easily, on your Classic II.
The simplicity of the Classic II is where it's at. Combining natural lump charcoal and simple air flow control allows you to adjust and maintain any temperature for a long period of time. Set the temperature to 225ºF for classic low and slow barbecue and you can rest assured that the Classic II will maintain its temperature for up to 12 hours.
The Classic II is ready to cook in just 15 minutes. Simply pour in the desired amount of charcoal, drop in a Kamado Joe charcoal lighter, and you'll be ready to cook in the same amount of time that it takes you to preheat a gas grill.
The Classic II carries an amazing limited lifetime warranty. With high quality ceramic, 304 stainless steel, powder coated bands and hinges and HDPE shelving the Classic II is built to not only survive but thrive in the harshest climates.
What You Get
The Kamado Joe Classic II is the best deal in ceramic grills today. In the box you will find a fully assembled Classic II with built-in thermometer, Kamado Joe's sturdy cart with locking casters, HDPE (high density polyethylene) side shelves and handle, the divide and conquer cooking system which includes a multi-position stainless steel rack, two half moon 304 stainless steel cooking grates and two ceramic half moon heat deflectors, a patented slide-out ash drawer and a grill gripper and ash cleaning tool. This is the most complete cooker on the market today. You don't need anything extra to start grilling, smoking, baking or roasting today.
Model Number: KJ23RHC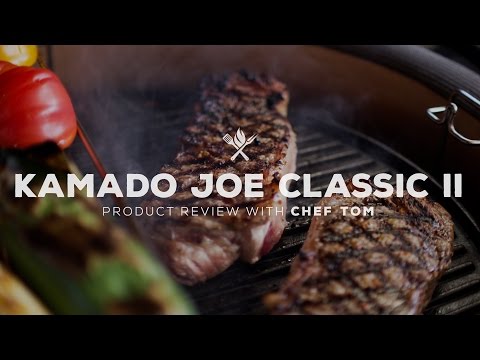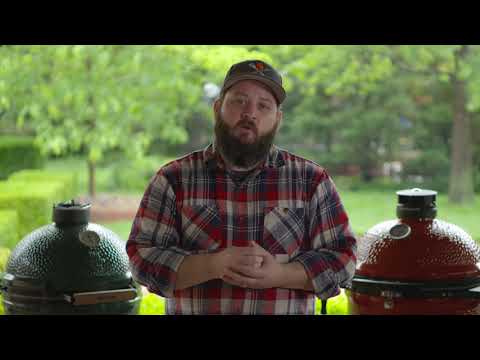 Grill Dimensions
(w/ cart & shelves)
Width: 46.5″
Height: 48″
Depth: 28″
Heat Range
225° F – 750° F
Cooking Surface
18" diameter 256 sq. in.
w/ grill expander : 407 sq. in.

w/ 2 set of grates : 508 sq. in.

w/ both grates and grill expander : 660 sq in.
More Information

| | |
| --- | --- |
| SKU | 12026422 |
| Color | Red |