Twin Eagles 24" Outdoor Cooler Drop-In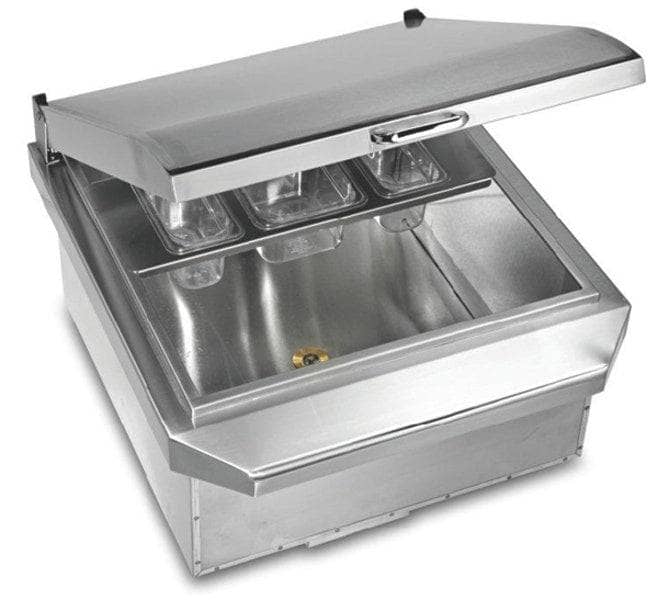 Twin Eagles 24" Outdoor Cooler Drop-In
Product Details
Original Price:
Current Price:
$1,679.00
Made in the USA
Additional Information
An outdoor cooler is an essential part to any outdoor kitchen area and with the Twin Eagles 24" Outdoor Cooler, Drop In you can easily keep all your beverages cold at all times. Built for strength and superiority, this outdoor cooler is perfect for holding up to a large 60 bottles at a time which is great when entertaining large gatherings of guests.
Constructed with stainless steel, this Twin Eagles outdoor cooler is capable of promoting high supporting capabilities, and promotes seamless welds which won't break or become damaged when used in different environments. The removable lid features heavy-duty hinges which are able to promote strength. Their strength also reduces damage that may be from continuous opening and closing throughout the day or night.
Offering a removable sliding condiment tray, it can easily be cleaned when needed. It also features enough space for 25lbs of ice which is perfect for keeping your beverages cold at all times even on the hottest of nights. Complete with a brass drain with plug you can easily empty any excess water which may be located in the bottom when the ice melts, allowing for you to easily replace the ice when needed. Featuring a high polished signature accent, this Twin Eagles outdoor cooler offers a professional look with superior benefits that make it one of the best on the market today.
Features
Seamless welds and signature hi-polished accent
Removable / sliding condiment tray
Removable lid with heavy duty hinges
Brass drain with plug
Enough space for up to 60 bottles and 25 lbs. of ice.
Model Number: TEOC24D-B
TWIN EAGLES
Created from many years of experience, the Twin Eagles range was first introduced to the world in 2005 by award-winning Dante Cantel, a professional gas engineer. Dante reinvented what it means to own a true outdoor kitchen with his range of refined and perfected products which promote exceptional design, powerful performance and strong construction. Now a household name amongst gas grills, other products are no match for a Twin Eagles grill because of their incredible grilling performance.
Customer Reviews & Questions
Need Help?
Our experts are here to guide you through your purchase.