Castelle Moderna 16" Square Side Table with Slat Top in Platinum Tex Finish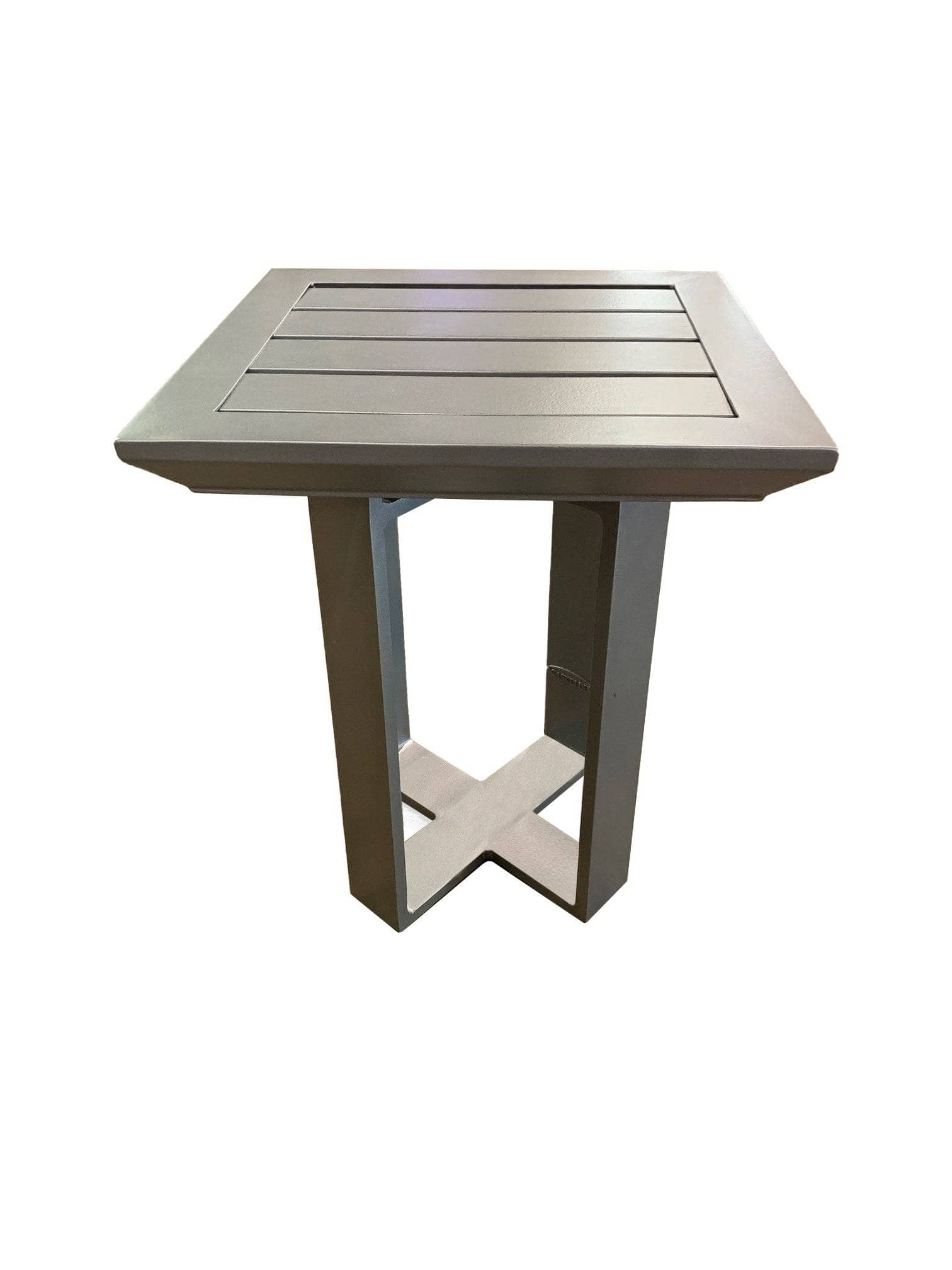 Castelle Moderna 16" Square Side Table with Slat Top in Platinum Tex Finish
Product Details
Additional Information
Castelle's tables are beyond compare for their beauty and endurance. The tables especially showcase the artisan-inspired designs and expert craftsmanship that the brand is so well-known for. With a variety of beautiful table-top designs and exquisite finishes, you can create the exact table you want for your outdoor living space. Special orders ship in about six weeks. Contact us today to learn more about your Castelle table options.
CLASSICAL 20" SQUARE SIDE TABLE
Model: HSC16-PP-SLN
Dimensions: W 16" x D 16" x H 19"
Weight: 16lbs
Slat Top
Platinum Tex Finish
WHY CASTELLE
Over the past 40 years, Castelle has earned their reputation as the premier manufacturer of cast aluminum outdoor furniture. What sets Castelle apart? Attention to detail, artisan-inspired collections, partnerships with prominent designers and fresh designs in contemporary, transitional, traditional, lodge and other popular styles. Castelle has a collection to perfectly fit your style.
Throughout each of Castelle's collections is an unwavering commitment to quality, attention to detail, exquisite finishes and a focus on comfort. World-class quality, comfort and selection - that's Castelle.
We are proud to showcase and recommend Castelle's products as the finest outdoor furniture in our showroom.
For four decades, Castelle has led the industry with their artisan-inspired designs, relentless commitment to quality and unequaled comfort.
Castelle is synonymous with selection. From rich traditional to upscale casual, clean and modern to flexible transitional, Castelle has a collection that is certain to suit your style.
When you encounter Castelle furniture for the first time, you will immediately be taken by the beauty of the design, the finely crafted frames and the hand-applied finishes. All of this will invite you to slip in to the seat to be captured by unparalleled comfort.
More than just a place to sit, Castelle's timeless designs bring comfort and elegance for your family and friends for decades to come.
From frame to seat, each step of the manufacturing process has been perfected to ensure the very best product is delivered to your door.
Castelle strives to produce the finest frame in the industry with a finish process that is second to none. The quality begins with flawless aluminum grades that meet ANSI standards and are ideal for extruding, casting, welding and finishing. Perfected casting techniques eliminate air pockets in the castings which produce maximum-strength frames that provide decades of service without cracking or breaking. A world-class finish starts with extensive surface cleaning before dipping in a chemical wash in preparation for application of the base finish layer. The unique finishes common to Castelle are hand applied then preserved with a final layer of clear coat. Fifteen steps in all result in beautiful finishes that are extremely durable and backed by an excellent warranty.
Comfort is as important as construction, and Castelle delivers unequaled comfort in its cushions by starting with a high resiliency urethane foam core in a precise density to deliver comfort and shape retention. This core is then Dacron-wrapped, fitted with a dust cover and covered with solution-dyed acrylic fabric to give you a luxurious cushion intended to last for many years.
As their final step in their production process, Castelle carefully wraps each piece and packages them to ensure that your furniture arrives in pristine condition.
With many beautiful collections to choose from plus excellent selections in finishes and fabrics, we can help you personalize your Castelle furniture to fit the outdoor lifestyle you desire.
CARE AND MAINTENANCE
Clean frames with a mild soap and water solution, preferably an automotive type liquid soap wax that is safe for clear coat finishes. Store in an upright position to allow any water to drain.
Customer Reviews & Questions
Need Help?
Our experts are here to guide you through your purchase.