No matter what your dream outdoor kitchen looks like in your mind, we are here to bring it to reality. From multi-fuel cooking areas that include wood-fired ovens and gas grills to a small footprint kitchen that is big on features but light on your budget – our experience can get it done.
We help you identify your goals and then work to create the outdoor kitchen that you desire. When the dust settles, you can flip a switch and let the party begin.
Our staff has the experience necessary to guide you through the toughest outdoor kitchen projects.
Our staff has the experience necessary to guide you through the toughest outdoor kitchen projects. We have designed and installed outdoor kitchens featuring gas grills, pellet grills, charcoal grills, wood-fired ovens, griddle cooktops, power burners and more.
When our team recommends a product to you it is backed up by hundreds, and sometimes thousands, of hours of cooking experience with that product. We don't just sell outdoor kitchen components, we design kitchens that work for you from day one.
A Focus on Outdoor Kitchen Layout and Design
We understand how you cook and work to make sure that all factors are taken into consideration when designing your outdoor kitchen. Preparation space, cooking area, storage, and serving zones are all integrated within the space you have. This means you will have the most enjoyable outdoor cooking experience possible.
No matter what your space looks like we will make sure to design for ease of use. A frustration free outdoor kitchen is an outdoor kitchen that gets used again and again.
We have run into just about every problem you can imagine when installing new kitchens or refurbishing existing ones. Utilities cannot be an afterthought and our team will properly plan for access to electrical outlets that help you maintain a clean and safe environment.
When we help you plan your outdoor kitchen we don't just focus on how many BTUs the grill produces. Instead, we focus on the function that is needed for the entire kitchen. This can include trash and recycle, dry storage for often used food products, under-mount sinks for prep, simple bartender sinks, refrigeration that is properly rated for outdoor spaces, and ice - whether that be drop-in or roll-out ice chests, or an ice machine. Each of these has their place and we will work with you to make sure your kitchen is outfitted in a way that makes entertaining a breeze.
Proper Outdoor Kitchen Construction Techniques
Looking around the web you would think that there are many acceptable ways to build an outdoor kitchen island. You will see wood frames, cinder block frames and more. And while it is possible to build a kitchen out of these materials they are not the right material for the job.
We design outdoor kitchen frames for steel tubing or metal studs. This is not only for strength but for longevity. They are versatile enough to handle any design and can be easily customized to fit into tight spaces where large, and heavy, CMU blocks or wood frames just won't work.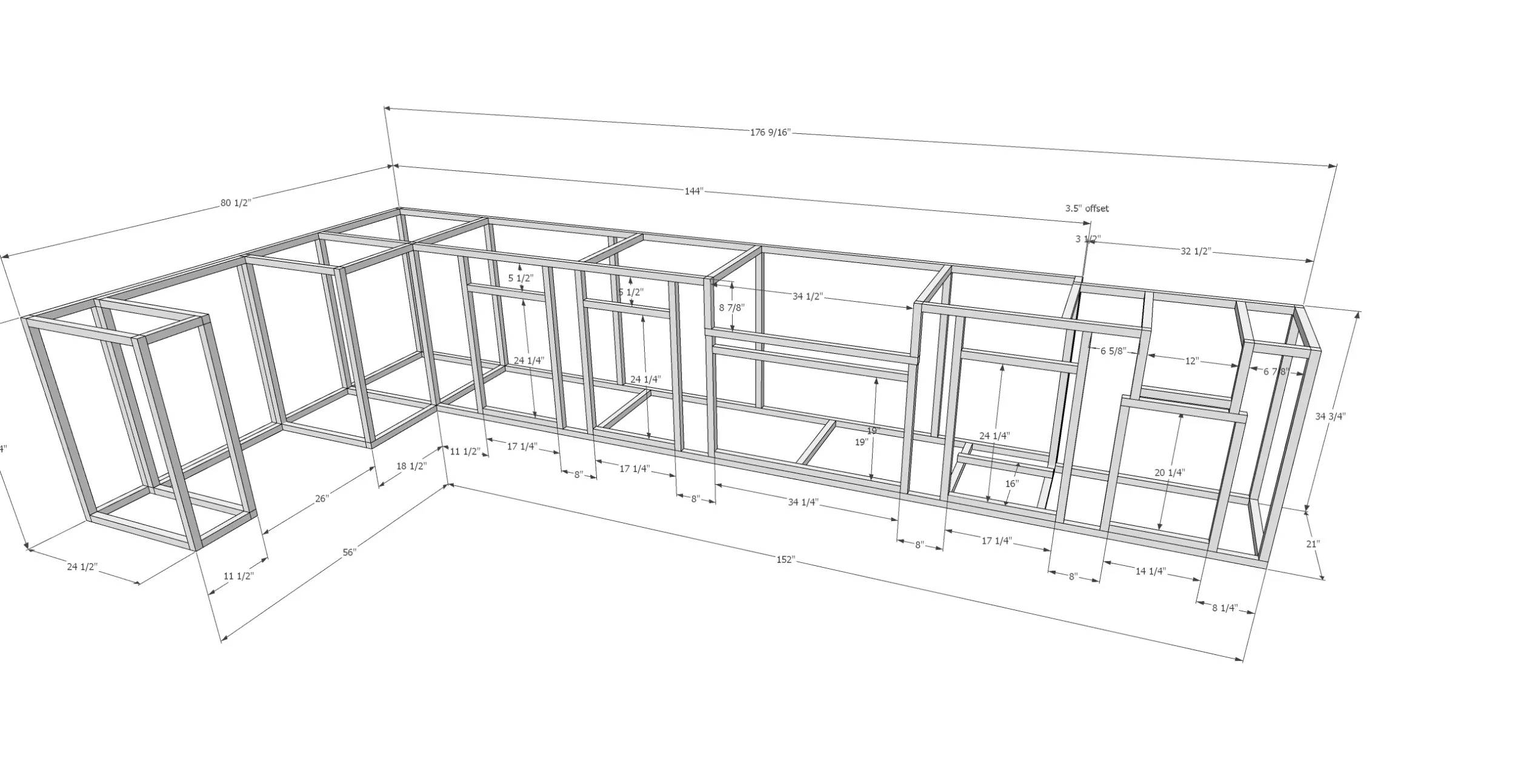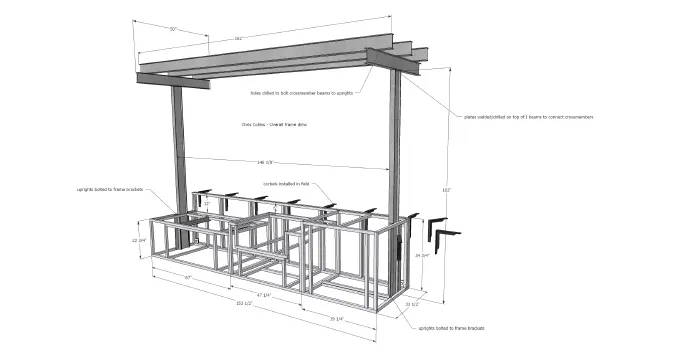 On top of the frame, we recommend concrete board from Durock as it will seal up and is designed to handle wet environments (Durock is rated at less than 3% moisture pickup, so it is perfect for any environment). It serves as the ideal substrate for any number of facing materials from brick to stone to tile to stucco.
Having built kitchens we have dealt first hand with poorly constructed and poorly installed under counter components and cooking appliances. We include detail on how to set, square and shim your under-counter doors and drawer units so that they operate as intended. Properly installed components will give you many years of service life.
We know from experience how under counter components will perform over time and take into consideration the weight and overhang of our products to ensure that your cabinets fit and perform as expected. When you install the final component into your new BBQ Island, you will know that the job was done right from the beginning.
Here for the DIY or Professionally Installed Project
Whether you are the classic Do It Yourselfer or will be hiring a contractor to build out your kitchen we will give you everything you need to get the job done right.
For DIY projects we carry a full line of prefabricated kitchen components that will suit any style. These building blocks allow you to design your dream outdoor kitchen with minimal effort and are designed to provide many years of service.
We Carry the Top Outdoor Kitchen Brands
We have spent years cooking on and testing the many products that are offered in the Outdoor Kitchen world. We know each brand intimately and have resolved to carry only the best products that we believe provide true cooking versatility and value.
We focus on products manufactured from durable stainless steel and other materials that are designed to stand up to the worst Mother Nature can throw at them. Rest assured knowing that your kitchen will perform month after month and year after year.
Culinary Trained Staff, We Test Every Brand We Carry
Our staff includes a Culinary Trained Chef that tests every major grill we carry by creating dishes using various cooking techniques so that our team knows what each grill has to offer. This is an important part of who we are. Educating our customers goes beyond the grills and cooking supplies we offer.
Our team also teaches you how to cook. Our blog contains hundreds of recipes, all developed in-house, that allow you to show off your new outdoor kitchen to friends and family at your next gathering.
Make easy monthly payments over 3, 6, or 12 months with Bread . Rates from 10–30% APR.
Quick and Easy - Enter a few pieces of information for a real-time decision. Checking your eligibility won't affect your credit score.
No Hidden Fees - Know up front exactly what you'll owe, with no hidden costs and no surprises. Just select Bread at checkout.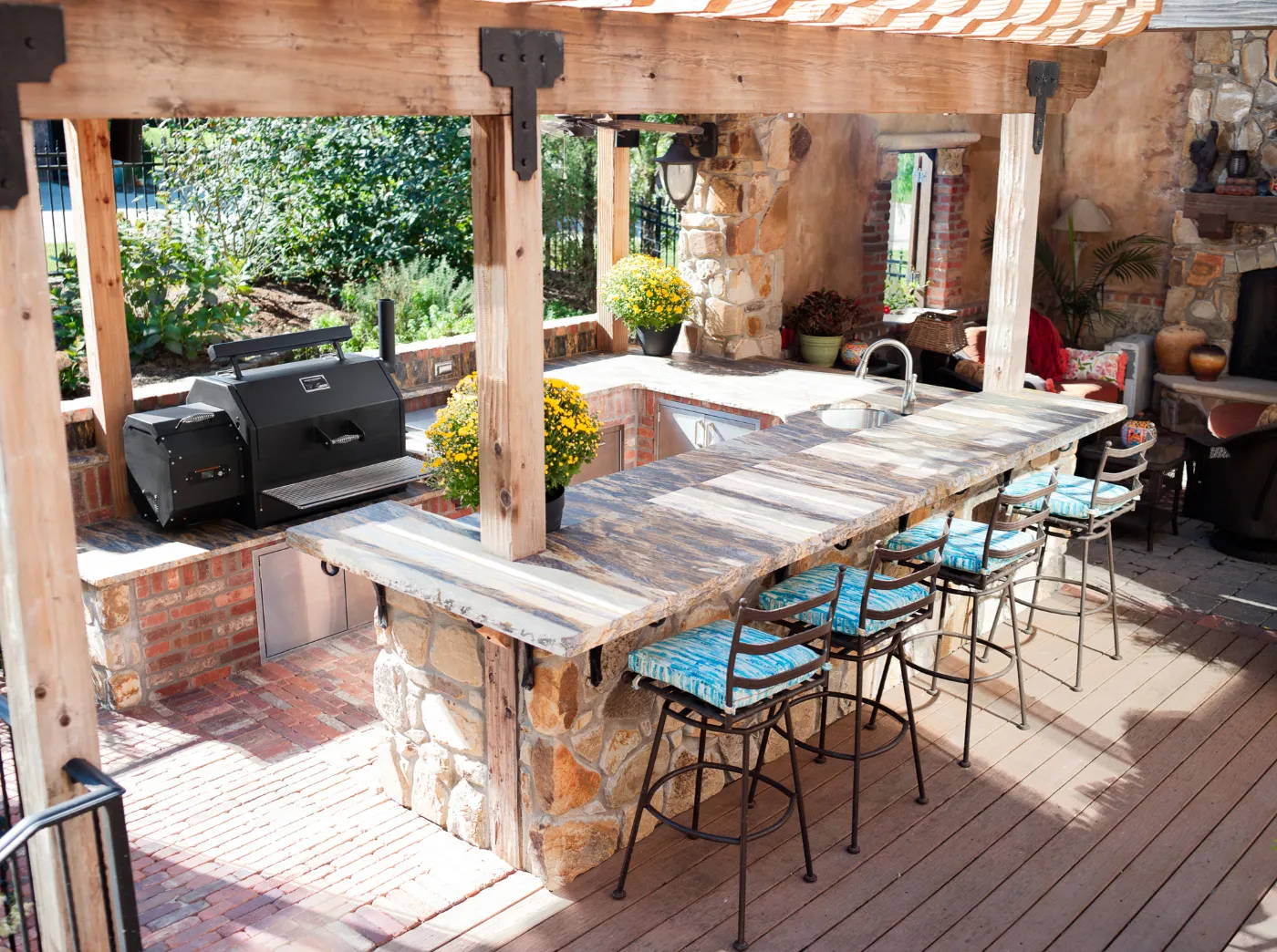 RUSTIC U-SHAPED OUTDOOR KITCHEN WITH CUSTOM PERGOLA
MODERN FARMHOUSE SINGLE WALL OUTDOOR KITCHEN
MODERN SINGLE WALL OUTDOOR KITCHEN
COMPACT GRILL STATION WITH STORAGE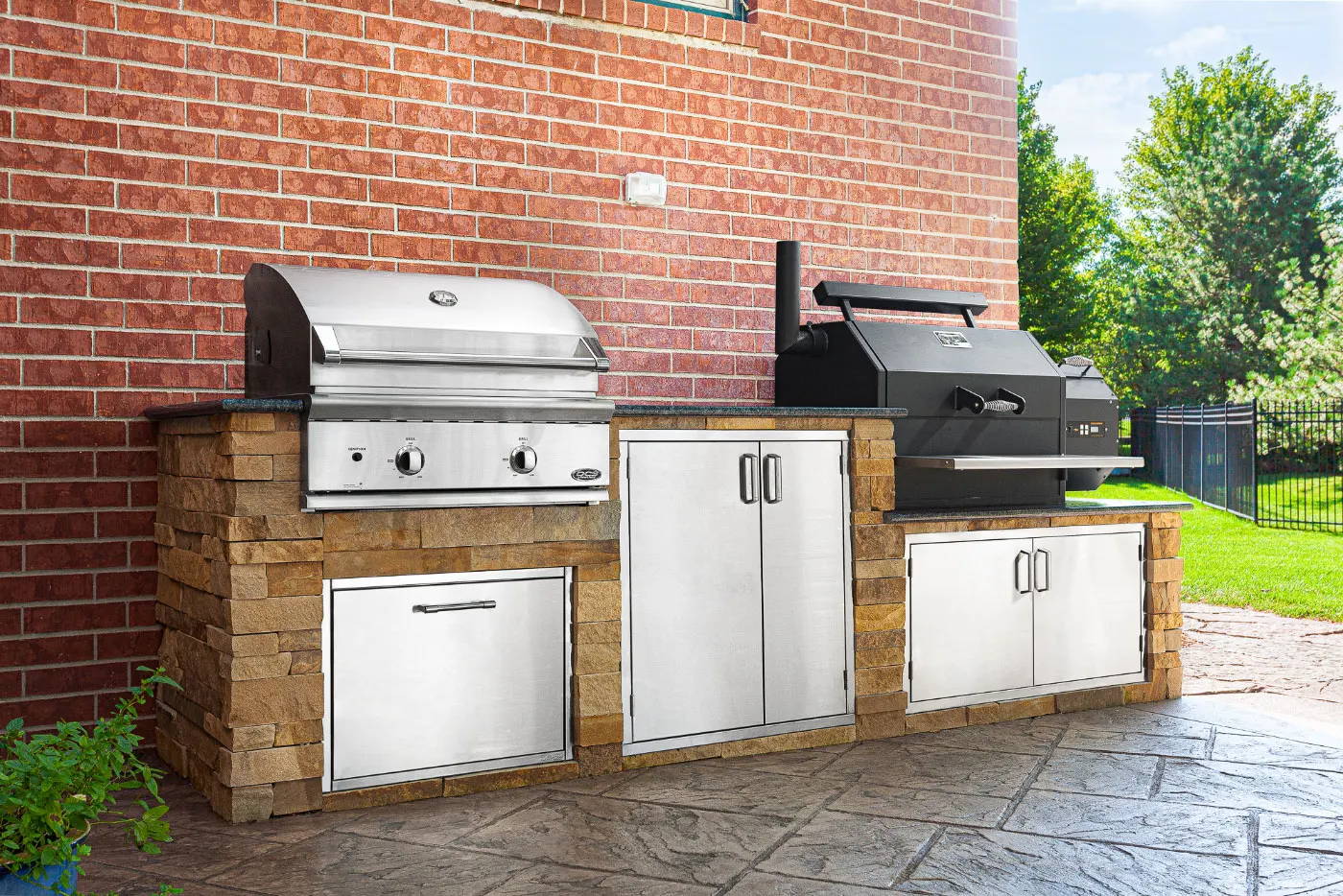 SINGLE WALL OUTDOOR KITCHEN WITH STORAGE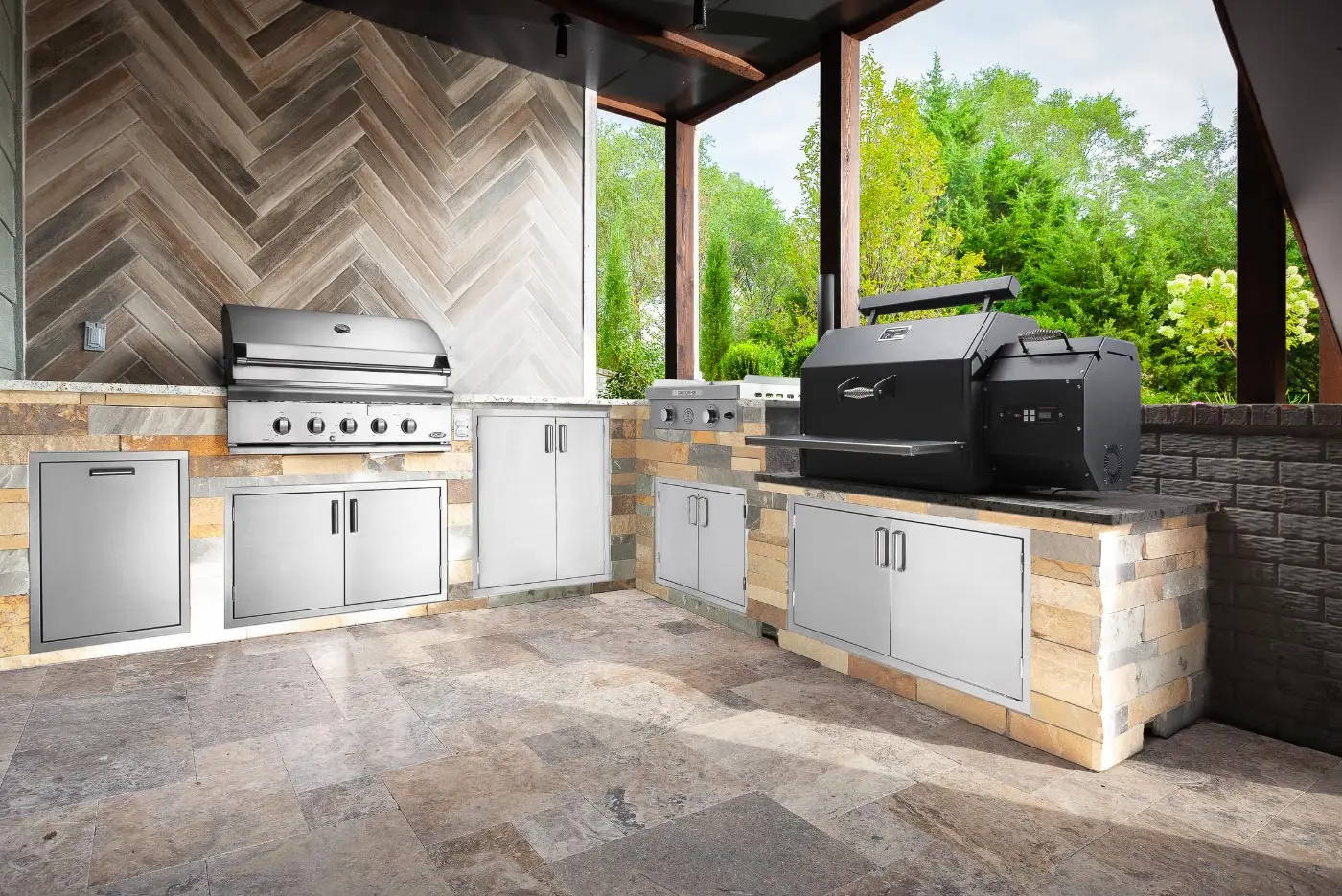 UNDER-DECK L-SHAPED KITCHEN WITH EXTRA STORAGE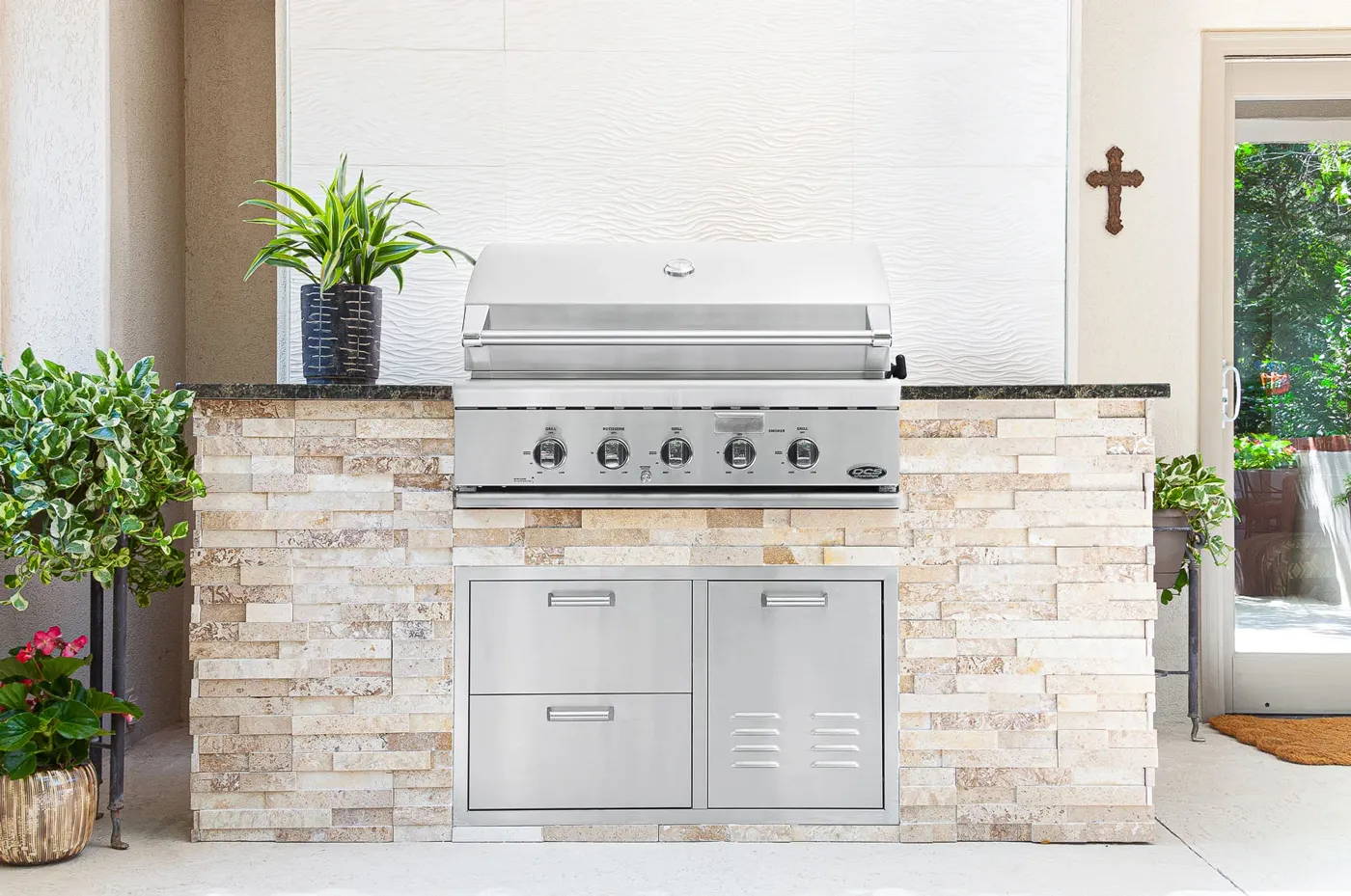 MODERN FARMHOUSE 8' COOKING STATION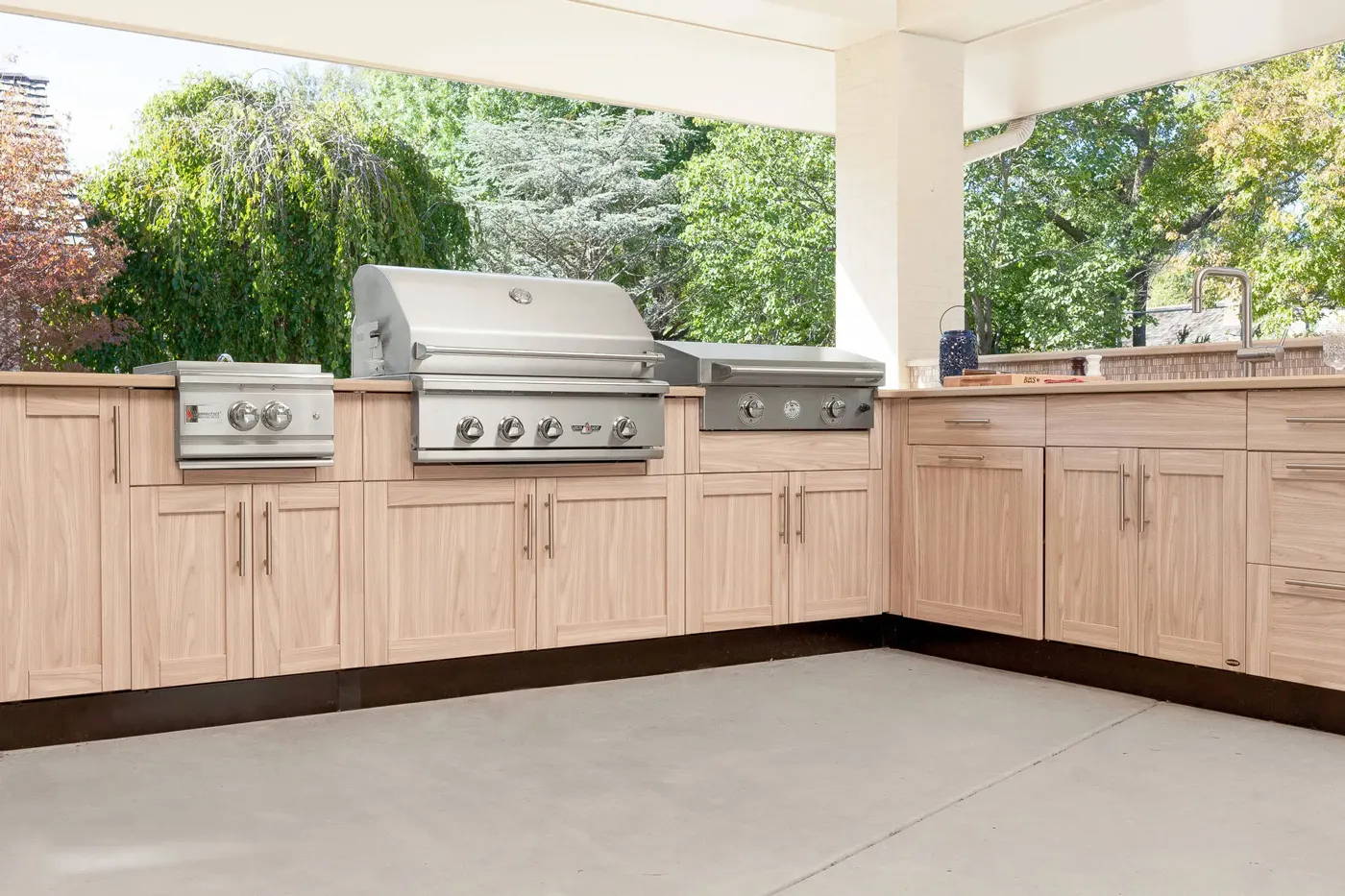 L-SHAPED COOKING & ENTERTAINING CENTER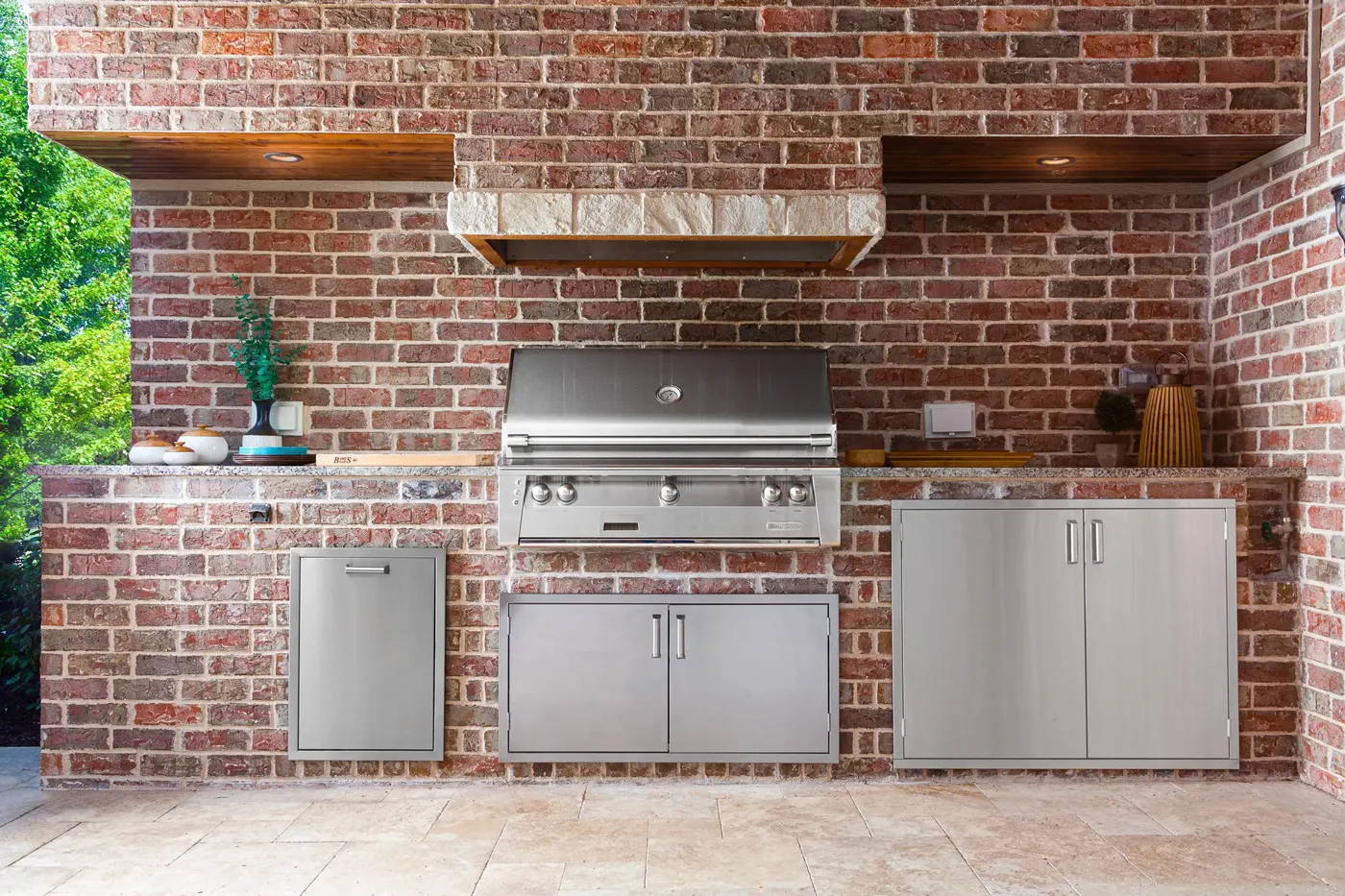 EFFICIENT SINGLE WALL GRILLING CENTER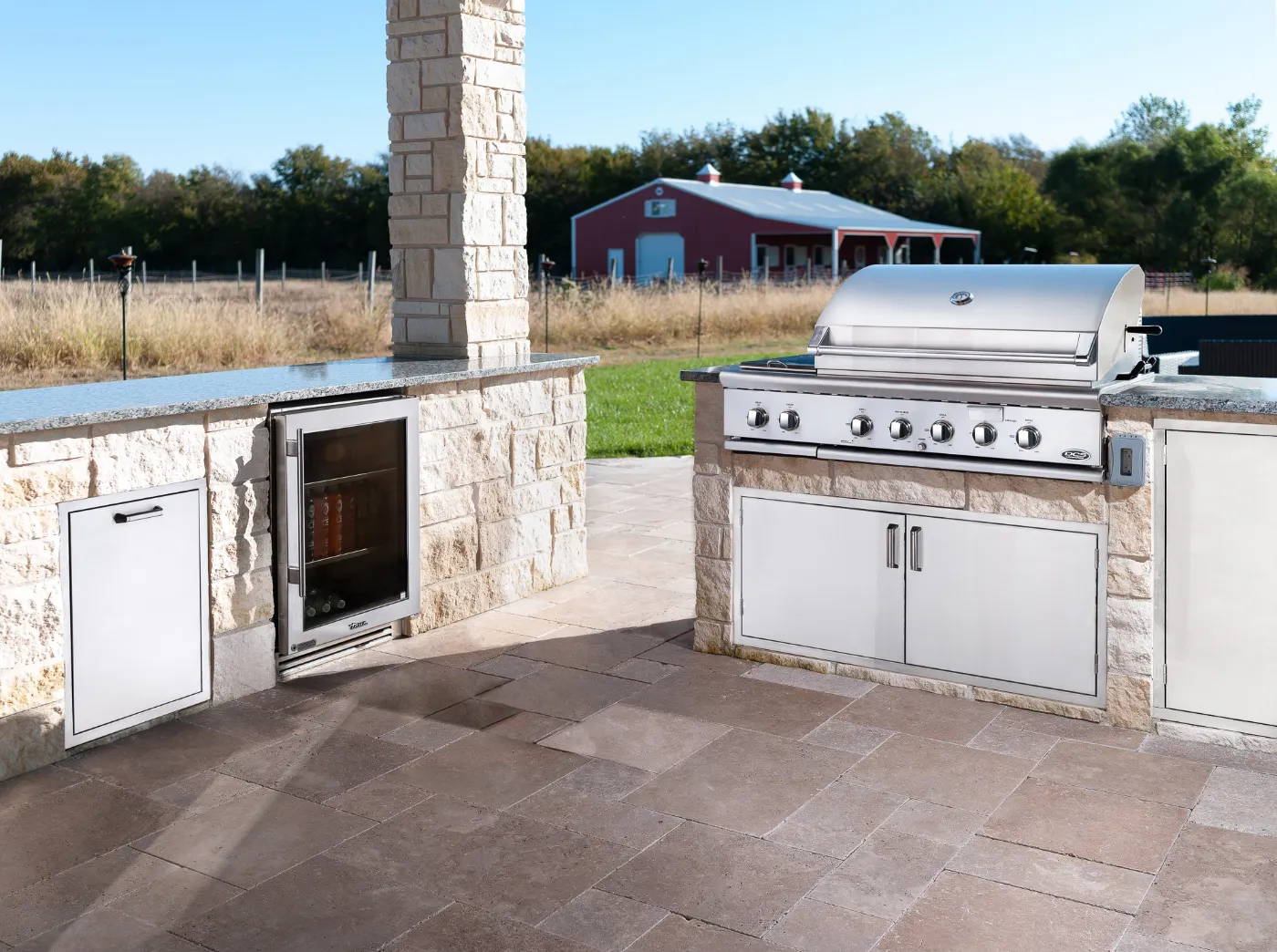 ULTIMATE POOL-SIDE COOKING & ENTERTAINING OASIS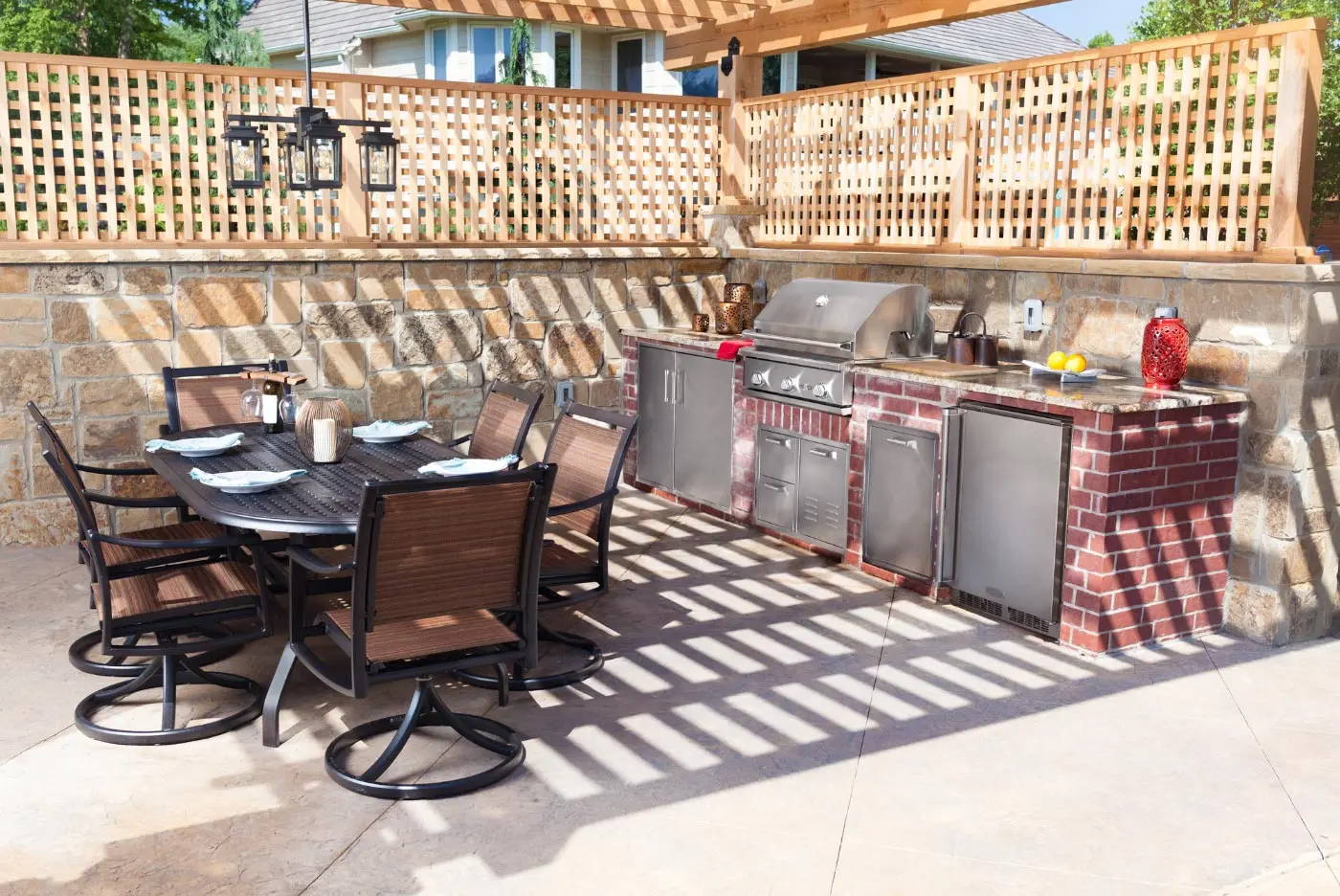 SINGLE WALL GRILLING & ENTERTAINING STATION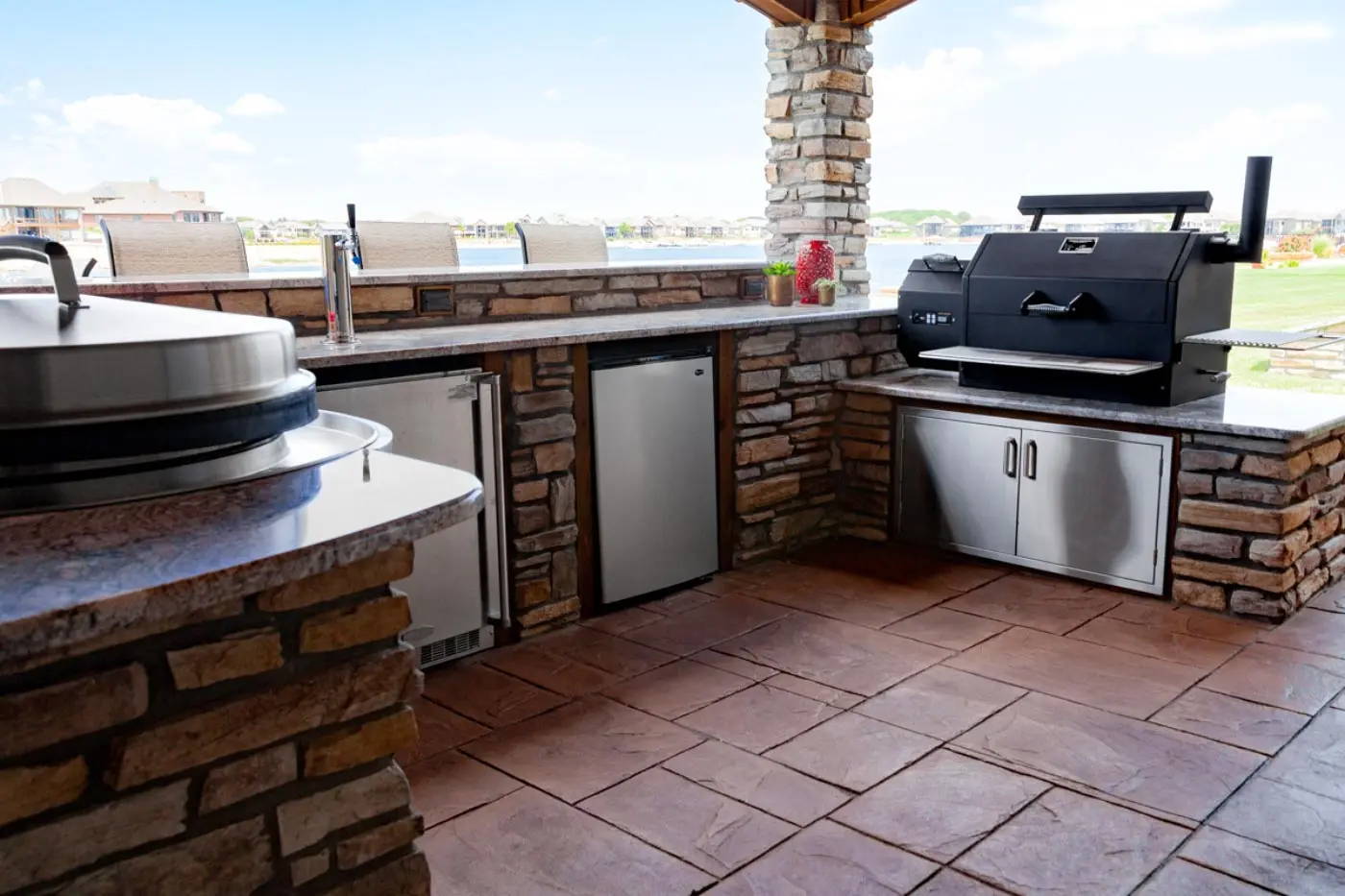 U-SHAPED COOKING & ENTERTAINING CENTER WITH LAKE VIEWS